Zero emission cars are the wave of the future. And more manufacturers seem to realize that in order to deal with the growing scarcity of fossil fuels, producing environmental friendly cars is a solid investment.
The concepts and designs that are thought up by engineers and designers at some of the biggest car makers in the world are featured in this lens.
These are the best in zero emission car design.
Volkswagen Concept S 
Volkswagen has been known to produce smaller, easy to drive cars that are perfect for city dwellers. This has inspired designer Mark Kruse (see more design in his portfolio) to come up with this design for a zero emission car called Concept S.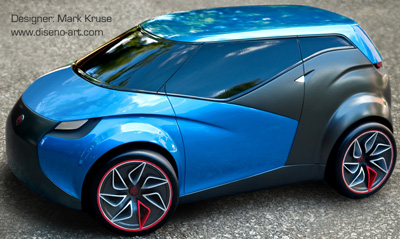 The concept will be powered by four electric motors and to even make it more environmental friendly it will be painted with water based paint. With adding or removing seats or other cosmetic changes, the car can be transformed into a hatchback, small SUV or small truck.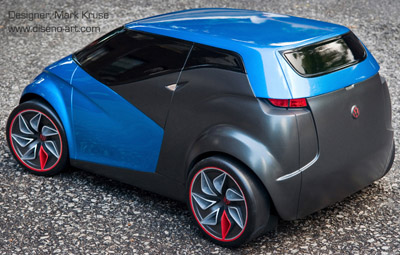 Hyundai 2020 
Designer Nicolas Stone has come up with a zero emission concept for Hyundai. The design was inspired by plants because of the way it uses the same elements as plant life to produce it's own fuel.
Dubbed the 2020, the concept is aimed as a family/city car and should seat up to four people.


Water is converted into hydrogen and oxygen by electrolysis (powered by the transparent solar panels which cover the body) which powers the hydrogen engine. And by using just solar and hydrogen power, the only emission this car will produce is clean water and oxygen.
Jaguar C-XC 
Jaguar is one of the best known British car manufacturers in the world. From the vintage E-type to the newest XK their coupes have always been sleek and beautiful. Phillip Dean used those design characteristics to design the C-XC. It's a concept aimed at being as energy efficient and environmental friendly as possible.
To give it the classic Jaguar look and add to the aerodynamic shape of the car, a single sheet glass pane and covered wheels are embedded in the design. Not only does this concept use a zero emission hydrogen engine, the car will be build by reused materials such as vegetable tan leather and recycled plastic bottles.
Morgan Life Car 
Morgan is another example of a British classic car manufacturer. Realizing the resources for fossil fuel are definite, they developed the Life Car which was shown to the world on the Geneva Motor Show.
Inspired by their Aero-8 roadster this car is powered by 4 electric hubs mounted on each wheel and powered by a hydrogen engine. It's extremely light (under 700 kgs) because of the use of materials such as aluminum and wood. They also left out a stereo system, central lock mechanisms and air bags (which cuts down on the safety features) in an effort to keep down the weight.
It's range should be around 250 miles on a single tank and have a top speed of around 100 mph. Doing the 0-60 run should take about 7 seconds.

It's a stunning and sleek car. A video featuring the car can be found below.
Honda FC sports car 
Honda already has a zero emission car you could buy right now in the Clarity. This hasn't stopped them from coming up with new concepts when it comes to environmental friendly cars.
Revealed at the L.A. Auto show, the FC sports car is a three-seat, hydrogen powered car. Power is supplied via battery packs behind the rear seats and middle of the car. With this design Honda once again proves its commitment towards creating greener cars.
Peugeot
Peugeot  RD concept 
It seems to be coming right from the set of Minority Report or Blade Runner, but this design is the winner of Peugeot's "Imagine the Peugeot in the Worldwide Metropolis of tomorrow"-competition. The design by Carlos Arturo Torres features a single-seater, three-wheel design which should make it a perfect fit for the urban environment.
The design should be powered by electric motors to make it as environmental friendly as possible. With the ability to lean into corners, the car should create the sensation of riding a scooter with keeping the advantages of driving a saloon car. The concept was introduced during the Shanghai Motor Show.

Peugeot Capsule 
The Peugeot Capsule concept is an ATV with an environmental friendly approach. Designed by Alp Germaner the car is intended for the more adventure minded driver who wants to drive their car on all terrains and all weather types.
A battery pack powers an electric engine, with solar panels on the roof providing additional electricity. It also features a build-in and removable storage compartment. All vehicle functions are controlled through touch-screen technology and it's equipped with state of the art internet connectivity through satellites.
Arius Concept 
More looking like a Batmobile than a conventional car, the Arius Concept designed by Jongpil Shin has some interesting features. It has an electric motor and the sleek and aerodynamic design produces less drag.
The two-seater concept also features cross seating so driver and passenger face each other.
These are the cars which are officially in manufacturing stage, but some critics say many of them are not completely zero emission cars as some of them  employ hybrid engines for cutting running costs!